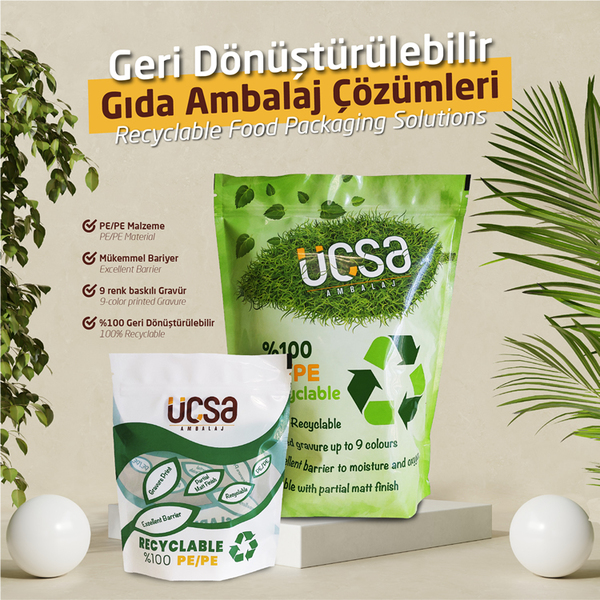 We, as Üçsa Ambalaj, carrying on as based on the slogan of "Now is the time for transformation for the future of the world", produce packaging solutions that are recyclable by 100 % in order to leave a habitable world for the future generations, to use the natural resources in an efficient way in parallel with the sustainability principles and to avoid environmental pollution.
You can use our products that are recyclable by 100% as primarily in the form of food products involving bakery products, sweets and snacks safely for many products. You can make your brand gain a new identity using the packages of Üçsa that are recyclable by 100 %, has a Pe/Pe structure and is fit for the applications of doypak and zip and may extend the shelf life of your products and can preserve both environment and nature.
The prominent features of the doypak packages that are of a recyclable nature by 100%, which you can prefer for the packaging of your products as based on Üçsa Ambalaj quality and guarantee may be summarized as such:
Increase shelf Life
100½ Recyclable
Produced with Pe/Pe Structure Materials
Compatible with Doypack and Zip Applications
Needs-oriented are avaliable at Üçsa Ambalaj.